Fuel Management System Solutions- Software for Fuel Management
Is Your Fuel Management Solution Keeping Up With Your Fleet and Bulk Fuel Delivery Operations?
In a highly competitive and challenging environment you rely on a fuel management system and solution that makes managing your fleet and bulk refueling operations an asset and not a stumbling block. If you plan on growing your business and not just remaining competitive, your fuel management processes and systems have to be 24/7 top-notch performers. Manage Petro's Fuel Management Solution (MP-FMS) is a real-world, in-the-field proven system that can help you take complete control of your fuel management and refueling operations.
Manage Petro's complete suite of customized modules can eliminate the frustration and headaches associated with complex administrative and management tasks. Our fuel management solution produces real-time, access-from-anywhere reporting and invoicing that can account for every drop of fuel that comes in and out, can allocate delivery workloads across different regions, can manage drivers, and above all, keep customers satisfied and coming back month after month, year after year.
MP-FMS is a complete enterprise system for petroleum marketers.Our approach is simple – We enable companies to improve their bottom line through the deployment of a fuel management system that enables them to operate more efficiently.
At the very least, any proper fuel management solution addresses the management challenges listed below. Customers will have a different but related set of concerns that must be addressed if your solution or system is to help get customers engaged, satisfied and coming back. Dynamic growth for petroleum resellers and  providers in Canada and the US has created management headaches and business challenges that an army of billing clerks and dispatchers could never overcome! At the very least:
Your management system should allow you complete control of your fuel and refueling assets, including employees and including different locations and regions.
Your solution needs to product acccurate records, invoices, reports, work-orders and it needs to do it 24/7 AND in needs to do it on mobile devices, desktop and tablet.
Seamlessly manage accounts receivable, credit, delivery, service and inventory, and more
Gather, track, and intuitively manage important data analytics with advanced business intelligence
Eliminate manual processes to increase delivery and dispatch efficiency
Your system needs to address critical downtime issues cause by human and system error.
Improve data accuracy and simplify accounting processes by eliminating paper tickets
Increase fleet management capabilities through integrated systems and processes
Improve business processes utilizing your own data
Administrative management and setup has to be one-click, set-and-forget easy or users will not embrace the system.
If you are currently using a fuel management system that falls short on any of the core features listed above, it may be time to reconsider how and why you're invested in a system and a process that is costing you money and not making you money…
Customer Focused Fuel Management Solutions for Fuel Marketers
Downstream fuel delivery keeps North American transportation moving. For petroleum marketers, convenience store chains, regional fuel distributors and fuel haulers offering extended inventory management services, MP-FMS software offers increased efficiency and profitability.Combining data and graphical indicators, our interactive dashboards deliver information summaries to view the current state of your customers and your business – allowing you to quickly assess a situation and make an informed decision.
With insight into the true costs associated with of each of your customers, customer service and/or you can strategically allocate resources in order to serve your customers in the most cost effective manner.Your customers are probably frustrated because they aren't receiving the full details of each fuel delivery or the breakdowns they might need for a special report or critical piece of business intelligence they need.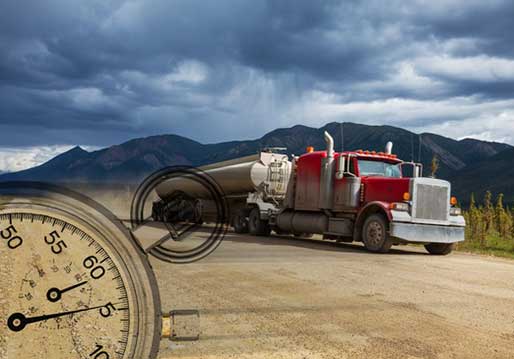 If you're like most petroleum resellers, customer invoicing creates more questions than answers! Customers are used to getting a bulk sum invoice at the end of each billing cycle, but that invoice needs to answer questions they need in order to make intelligent operating decisions about their own bulk fuel business. Your solution needs to answer at least the following business critical questions:
During this billing cycle, which of my unit(s) did you fill?
Can you show me how much fuel you delivered to that unit and when exactly?
Can you tell me which locations you delivered fuel to?
To meet operational deadlines, I need you to ensure my units are topped up on the 18th. Can you do that?
I'm being audited! I need the details about all AVGAS and Dyed Diesel you might have delivered in the last 4 months.
Your customers' needs for on-time, reliable business intelligence about their operations is every bit as great as yours. Like you, they need an easy-to-use online solution that can help manage their business both in the field and in the office.

Solving both yours and your customers' needs requires a simple point of contact that ties both you and your customers' data together. Manage Petro's Fuel Management System (MP-FMS) solution addresses all your fuel management requirements in a single, user-friendly environment.
The Data and Insight to Make Smarter Strategic Decisions
Our FMS enables the complete management of fuel distribution while improving overall efficiency through a quick, simple system. It creates greater visibility within inventory, expenditure and margins while reducing run-outs, loss-of fuel and over/under payments. An FMS has the ability to supervise maintenance needs and forecasts while ensuring complete manageability over consumable assets within your enterprise.
MP-FMS Will Help You…
Organize: MP-FMS will organize, archive, and keep your data so you won't have to. From delivery scheduling to invoicing, just point, tap and click in the blanks from one central location. MP-FMS will automatically generate the data you need to get clear, accurate, and unambiguous reports in real-time 24/7.
Create Greater Visibility: Keep track of any enterprise – big or small, national or international. Get a thorough understanding of who, what, when, where and why through your business.
Save Money: Automation leads to less human error, money lost through mistakes, inefficient use of time and resources, and less down-time.

Our System
The fuel management system (FMS) is made up of 4 main areas: Setup, Processes, Reporting and Tools:
In the Setup area, companies can create and manage all their clients, locations, units and credentials.
In the Processes section, companies manage and automate daily work orders, deliveries and invoices.
In the Reporting area, companies and their clients can create any kind of reports related to cost, consumption, fees and any other data collected in the system
In the Tools section, there are many advanced features to be used by companies and clients such as loss detection, fuel usage forecasting, project management, equipment rental, hardware integration and a lot more.
We are adding new features to MP-FMS nearly every day. These features are added to the system based on the industry's needs. We are fully capable of customizing the solution for your needs if any customization is desired or required.
The FMS is designed and developed to create real-time monitoring of fuel delivery and improve fuel delivery efficiency. The FMS is intended to reduce delivery labour cost, decrease fleet expenses and add more safety and security to the company data. This will improve your customer service and have added value for your business. Your customers will be fully aware of all the deliveries, and your sales, delivery and financing teams will be fully automated. By adding the FMS to your company, you will eliminate a great deal of duplicated labour cost, human mistakes and delays on delivery and invoicing. An FMS will synchronize your accounting and delivery in real time and create savings by automating your bookkeeping system.