The Top 7 Challenges Facing Fuel Delivery Companies
Ideally, every fuel delivery business wants to buy fuel for less and preserve as much of the profit as possible to grow; however, some obstacles make this a far-fetched objective. Frequent human errors in data entry and accounting calculations lead to a painfully slow invoicing process, often resulting in delayed payment collection and, consequently, cash flow issues. Undetectable fuel loss imposes hectic costs on the business, and the slightest effort to control the damage ends in redundant overhead costs. What is the solution, you may ask?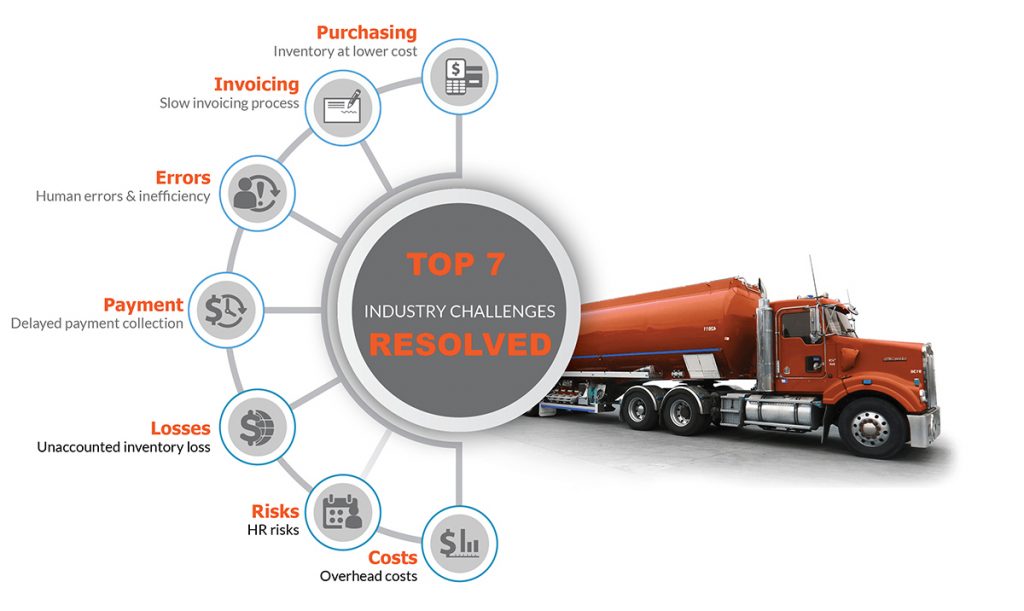 A completely error-free system that sets your business straight, from ordering all the way to invoicing and payment collection. MANAGE PETRO is set to increase your revenue by reducing your costs, using shared accounts with higher buying power, and providing you with one-click auto-invoicing that your drivers can access on delivery sites.
MP-FMS replaces the problematic paper-based system with a user-friendly Mobile App. As its core capability, it eliminated human errors by employing Auto-ordering and Auto dispatching and constantly communicating with RFIDs and Tank sensors to ensure you lose no fuel while serving your clients. Addressing one of the biggest challenges in the business, MANAGE PETRO helps you get paid faster. It promotes a fast invoicing technology that can integrate with your accounting software to handle all account types (pre-paid and on-account), credit limits, various pricing models, tax calculations, etc.
Thanks to the latest technology at its heart, MP-FDS gives you the ability to save time and eliminate overhead costs while expanding your business with no more than the resources you already have at hand. It provides all the solutions in an affordable yet elegantly easy-to-use package.