Electronic Log Device (ELD) Compliance
Easy access and control over your fleet ELDs
Manage Petro has partnered with KeepTruckin to offer you a best-in-class, fully-compliant electronic logging device (ELD) solution. With the KeepTruckin solution, you'll be up and running with fully-compliant logs as soon as you install the KeepTruckin ELD!
Through Manage Petro Integration with Keep Truckin, you do not need access to two dashboards. All the details of KeepTruckin are available though Manage Petro within the same system. 
Please contact us for a demo.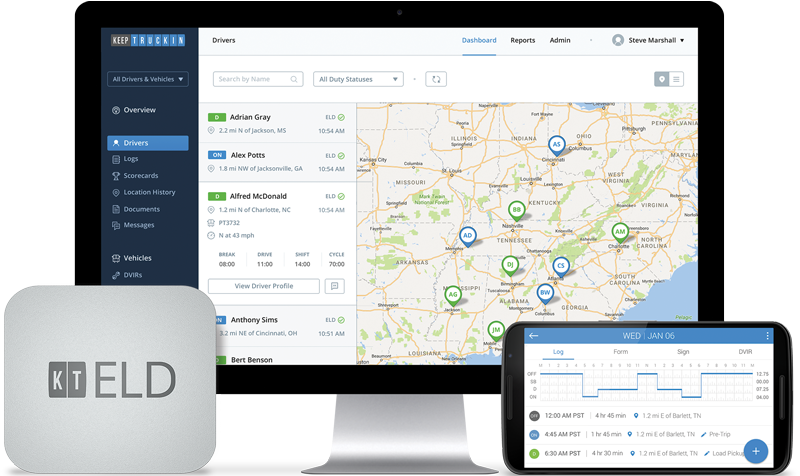 What does an e-Log ELD do?
In its most basic form, e-Log ELDs track the movement of the vehicles and drivers' duty statuses. As a result, they help carriers and truckers stay compliant with FMCSA's ELD mandate.
Ever since December 18, 2017, there has been a federal mandate requiring commercial vehicles to use an electronic logging device (ELD). Ever since April 1, carriers that do not comply can be put out-of-service with an impact to their CSA scores. You can prevent these problems with KeepTruckin, the number 1 rated ELD.

 ELD plugs into the truck's diagnostic port with a cable provided by KT
 river connects to ELD with an iOS/Android device via Bluetooth or USB (Android only)
 Driver's smart device sends information to Fleet Manager's computer dashboard via internet
 Sends vehicle data to FM dashboard without internet connection
 All telematics data is sent directly to FM dashboard with cELD, but compliance data (logs, etc.) is sent through mobile phone/tablet, so driver is compliant at road-side without coverage
 24/7 Support with 95% Satisfactory Rating
 Easy-to-use → 4.8 stars from 18,000+ reviews
 FMCSA Certified → Product built for compliance
 Used by 500,000+ drivers
 Backed by Google with a world-class engineering team
 Affordable: as low as $20/month
 #1 rating on ELD Reviews website comparing all competitive vendors
 Geofencing
 Clarity and peace of mind (office and clients)
 IFTA Fuel Tax Reporting
 Idle Time Tracking
 Driver Scorecards